July 14th, 2017
Upgrade your home care routine by trying out the full regime without committing to buying full-sized products. Starter Kits from Eminence Organics contain smaller-sized versions of the major products in a line based on your skin type or skin care needs. This allows you to try a full line for 2 weeks to a month to see the wonders it can do for your skin. Also, you'll have a chance to make sure a line is right for you before investing in full sizes that will last months.
Starter Kits are perfect for travel too!
All Starter Kits are available during the months of July and August to our Social Media followers for 25% off! In other words…all kits are $60 or less for the summer and they are all certified organic!
We have kits available for the following skin types at the summer promotion prices listed:
Age Corrective Starter Kit, $60: For anti-aging and decreasing the appearance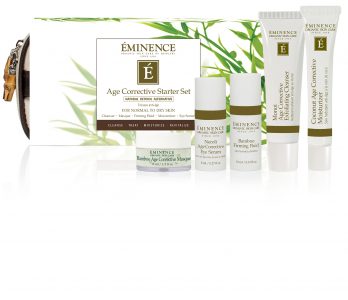 of fine lines and wrinkles. This kit includes 5 products – an exfoliating cleanser, a firming fluid, an age-corrective moisturizer, an eye serum and a masque.
Calm Skin Starter Kit, $44.25: For soothing irritated or sensitive skin and decreasing redness and irritation. This kit Includes 4 products – a cleanser, an arnica serum, a soothing chamomile moisturizer and a masque.
Clear Skin Starter Kit, $44.25: For oily or acne-prone skin and decreasing breakouts and inflammation. This kit includes 4 products – a cleanser, a purifying serum, a light probiotic moisturizer and a masque.
Bright Skin Starter Kit, $44.25: For brightening and minimizing pigment spots on skin for a more consistent complexion. This kit include 4 products – a cleanser, a spot-reducing  serum, a brightening moisturizer and a masque.
This is a truly amazing way to try a complete line customized to your skin type!