Community Support
The Waters Cares
At The Waters ~ An Urban Spa Retreat, we care about our community and making the most of every opportunity to better the Kitchener-Waterloo region and lives of those who live here. Have a look at some of the recent charitable events that we currently support: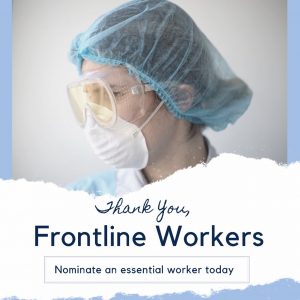 COVID19 Pandemic – Essential Worker Appreciation
The Waters Spa has been closed since March 17th due to the COVID19 outbreak. We want to show our deep appreciation to all of the hardworking front line and essential workers who have been helping our community battle COVID19. When we re-open, we will be giving 2 Essential Workers the gift of Half Day Packages at The Waters Spa. We all know how much these deserving individuals will need a break, and The Waters is proud to give back to those who have given so much for our safety.
HOW TO NOMINATE AN ESSENTIAL WORKER: Simply email info@thewatersspa.com or send a DM through Instagram (@thewatersspa) with the name, position, and telephone number of the Essential Worker(s) in your life that deserves this gift. When the spa re-opens, we will be drawing 2 names out of the nomination pool to win Half Day Packages!
Monthly Donations
Each year, The Waters donates over $6000 to nearly 50 different charitable causes and events in Kitchener-Waterloo. The Waters is a strong supporter of the Canadian Cancer Society and United Way, and we stay connected to local universities and colleges by donating prizes to many of their events. Keep an eye open for donations from The Waters ~ An Urban Spa Retreat at your next charitable event!
HopeSpring Cancer Support Centre
The Waters has partnered with Hope Spring, bringing the gift of relaxation to deserving recipients who have been impacted by cancer. Each month, the spa honours a winner chosen by draw at HopeSpring to enjoy a 75 Minute Ritual Facial at The Waters with a friend.
Spring Promenade Show
For over 5 years, The Waters has provided support to the Spring Promenade Fashion Show, with proceeds from the event going towards programs for Hospice Waterloo Region. Each table at the event is garnished with a Gift Certificate donated by The Waters – over $9000 in contributions to the event to date.
Jeans'N'Scrubs Event
The Waters has been proud to donate Premium Silent Auction Packages to the Jeans'N'Scrubs Event, which raises funds for Grand River Hospital, St. Mary's Hospital, and KW Counselling Services. Watch for Waters Treatment Packages and Gift Certificates that are auctioned off to the highest bidder!
April 2014 – World Autism Awareness Day
The Waters supports World Autism Awareness Day in the Waterloo Town Square with some of our dedicated Estheticians providing complimentary nail polish applications in the signature Autism Awareness colour…blue – our polish sparkles!
October 2013 – Dress for the Cause
The Waters participated in 'Dress for the Cause' – an event promoted by the Breast Cancer Society of Canada. The Waters donated  5% of our Treatment Sales and 10% of our Retail Sales to the Breast Cancer Society of Canada  and staff wore PINK for the day. We had pink cupcakes (from our friends at the Honey Bake Shop), pink beads and of course, balloons!
October 2013 – Color Me Rad
The Waters girls participated in 'Color Me Rad' – a 5 kilometre race in Kitchener where proceeds of the event were donated to Triton Sports, a program that helps various youth sports organizations to off-set the costs of their programs across K-W. What a fun day! We were able to run as a Spa Team, and get 'Colour-Bombed' together!
——–
Inspired KW (#InspiredKW)
The Waters is proud to announce our newest Community Program, Inspired KW. We want you to share your stories of inspiring women, men, and children in the Kitchener-Waterloo region. To thank those who are such important members of our community, we will be drawing winners for a Complimentary 30 Minute Relaxation Massage. Please feel free to email your stores of inspirational individuals to: Allison@TheWatersSpa.com.
Donation Requests
If you have an event or charitable cause that you would like The Waters to be a part of, please download the Donation Request Form and submit it in person at The Waters Spa, along with any additional information that you may have.
*Please Note: The Donation Request Form attachment is best retrieved from Google Chrome web browser.