The Waters
An Urban Spa Retreat
75 King St. S
Waterloo, ON N2J 1P2
On Willis Way in Uptown Waterloo
Regular Hours
Mon – Fri: 10:00 ~ 8:00
Sat: 9:00 ~ 6:00
Sun: 10:00 ~ 4:00
2021 Spa Closures
Sun May 23 / Mon May 24: Spa Closed
Sun June 13: Spa Closed
Thurs July 1: Spa Closed
Sun July 18: Spa Closed
Sun Aug 1 / Mon Aug 2: Spa Closed
Sun Sept 5 / Mon Sept 6: Spa Closed
Sun Oct 10 / Mon Oct 11: Spa Closed
Sun Nov 14: Spa Closed
Fri Dec 24: Gift Card Sales Only
Sat Dec 25 / Sun Dec 26: Spa Closed
NEW – Provincial Lockdown & Stay at Home Order *Updated April 10, 2021*
Valued Guests,
Unfortunately, we received the news today that as of 12:01am on Saturday, April 3rd, the province of Ontario will be in Lockdown for a period of 28 days. This includes the closure of Personal Care Services, which are services provided by our Estheticians. We have also received news that as of April 8th, a Stay at Home Order will be issued for the Province of Ontario, with an extension to the Lockdown of 2 weeks. With this extension, we hope to re-open for Esthetic services as of Thursday, May 20th.
The Waters is still able to provide urgent care massage to our RMT guests during the Lockdown & Stay at Home Order, as our RMTs are designated Health Care Professionals. If you have a scheduled RMT appointment during the month of April, there should be no issues with your booking.
Are there any new Safety Protocols that I should know about if I have an RMT Massage scheduled?
all RMT guests are to be pre-screened with a Public Health/CMTO approved questionnaire over the telephone prior to scheduled appointment at the spa
the doors to The Waters will remain locked; please knock to inform a team member that you have arrived, and we will assist you
all RMT guests are to complete an in-person screening questionnaire and mask compliance form upon entry into the spa
all RMT guests must have a mask on throughout their entire stay at The Waters, including during the massage. Masks must cover nose to chin
showers / changerooms are closed
beverage / food service unavailable
To respect the wishes of Public Health regarding travelling across regions, we are asking that guests from other regions previously in the Red "Control" Zone, or Grey "Lockdown" Zone refrain from booking at The Waters at this time. Guests of Waterloo Region, or guests previously in the Orange/Yellow/Green colour zones will only be permitted to book and enjoy appointments at this time.
Upon reopening the spa after the first lockdown, and since that time, we have required all guests of The Waters to complete a Pre-Screening Questionnaire & Screening upon arrival. If a guest is scheduling an appointment more than 3 days after their initial booking, a Guest Service Coordinator will call and complete the Pre-Screening Questionnaire over the telephone during the appointment confirmation call.
Masks are required in-spa for all guests at all times, including treatment time.
Masks must be covering the face from nose to chin, and guests who remove their mask during treatment may result in the therapist ending treatment early.
We ask that all guests arrive alone so as to minimize the traffic within the spa. Guests will be asked to arrive 10-15 minutes prior to their appointment start time to complete our Sanitization Process and update health history forms. We ask that guests wear their own masks; if you do not have a mask, we will provide one for you.
We thank you for your patience and understanding as we navigate these challenging times. We hope to ease our restrictions as soon as possible, and we will inform our guests via Social Media / Website Updates as soon as we are able to reopen sections of the spa.
————————————————————————–
The Waters ~ An Urban Spa Retreat is located on Willis Way in Uptown Waterloo.  We back on to The Shops at Waterloo Town Square, which are at 75 King Street South.
Reservations
To book a reservation at The Waters~ An Urban Spa Retreat, please contact one of our Guest Service Coordinators at 519-888-7727. We recommend booking well in advance for your treatments, especially Registered Massage Therapy, for best appointment availability.
Directions
From Kitchener: Take Park Street heading North to Uptown Waterloo. Turn right on William Street. Take the next left onto Caroline Street. Our Parking Lot is to the right.
From North Waterloo: Take King Street heading South to Uptown Waterloo. Turn Right on Bridgeport Street. Follow Bridgeport through the set of lights at Erb onto Caroline Street. Our Parking Lot is to the left.
Where to Stay?
If you are visiting Waterloo on your own, with your loved one, or with a group, our preferred hotel accommodations are with the Delta Waterloo, conveniently located 1 block from The Waters Spa at 110 Erb St. W.
To learn more about the Delta Waterloo Hotel, please feel free to visit their website.
Where to Park?
There is 1-hour parking on Willis Way (no time limit Sundays)
There is 2-hour parking in the public lot directly across Willis Way or in the Waterloo Town Square lots (no time limit Saturdays and Sundays)
 Beginning September 1, 2017, guests who wish to park for longer than 2 hours in the public parking lots can pay $3.00 for every additional hour using the Honk Mobile App on their smartphones. Please visit the City of Waterloo Parking Website for more information on this App: http://www.waterloo.ca/en/government/parking.asp
There is all day Mon. to Fri. parking (fee $3.25/hour or $17 max. ) on the 1st Level of the Waterloo Parkade located on King St. directly across from the Waterloo Town Square. The entrance to the Parkade is on Willis Way (the opposite side of King St. from The Waters).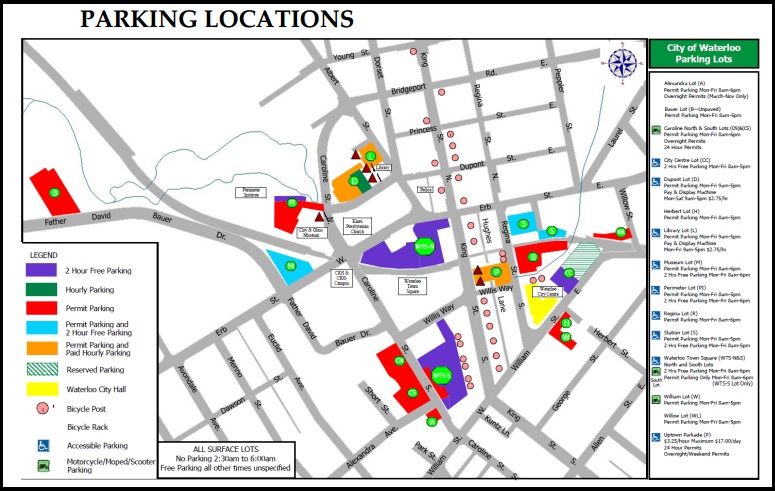 Photo Courtesy of The City of Waterloo