May 31st, 2017
Eminence Organics Tropical Vanilla Day Cream SPF 32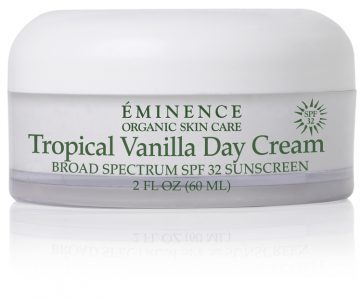 Our Staff Product pick for June is Eminence Organic's Tropical Vanilla Day Cream. Spending time in the sun increases your risk of developing skin cancer and signs of aging. Skin will be protected daily from UVA and UVB rays while leaving it looking and feeling moisturized and soft. Zinc provides broad spectrum protection without clogging pores or causing break-outs. Shea butter and a hint of vanilla care for your skin by moisturizing and smoothing your complexion.
This is an organic cream that does not contain Parabens, Phthalates, Sodium Lauryl Sulfate, or Propylene Glycol.
Retail price $69. Available during the month of June for our Social Media followers for 25% off!