June 8th, 2018
Summer has arrived a little early to KW and we are all excited about our new seasonal scent.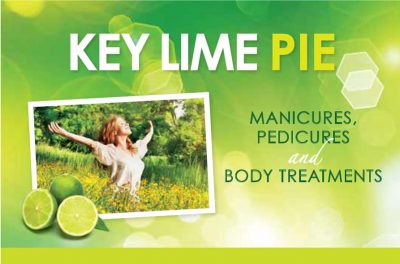 KEY LIME PIE! It's fresh, sweet and, of course, limey!
From now until the end of August, you can enjoy your Manicure or Pedicure with these new, home-made products. Or, try a full body treatment to exfoliate your skin before you lay down that fresh, new tan. You can even choose Key Lime massage oil for your next massage. What a treat!
And speaking of delicious treats, your Key Lime Pie Treatment will be served up with a Key Lime Shorttbread from Dana Shortt Gourmet – Thanks Dana and team for creating a cookie just for the exclusive enjoyment of guests of The Waters!