March 12th, 2014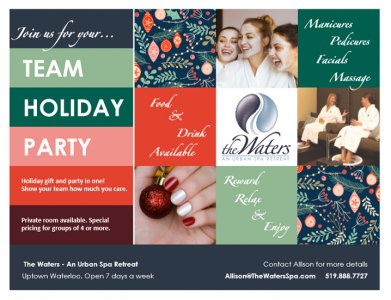 Book Your Holiday Party Today
The Holiday Season is fast approaching, and we want you to celebrate the season with your employees at The Waters!
We are proud to offer special pricing for groups of 4 or more.
Food & Drink Available! The Waters is now a fully licensed spa.
For more details, please contact our Spa Director, Carly Martin, at 519-888-7727 or cmartin@thewatersspa.com.
Groups and Organizations use time away at The Waters to recognize and reward employees and valued customers.
Groups of 4 or more are eligible to receive 10% off their esthetic services (not RMT) from Monday through to Friday.
Depending on the size of your group and your objectives you might consider these Monday to Thursday options:
Our Manicure and Pedicure Suite is able to accommodate for 4 Manicures and 4 Pedicures.
Learn more…
We have 7 private rooms to accommodate for large groups that are looking for pure relaxation with massage – esthetic massage and RMT massage both available.
Learn more…
Choose from our wide array of Spa Products and have it packaged together for a stunning gift.
Learn more…
Reward those around with you a Gift Certificate from The Waters, available for a dollar value ($5 increments).
Learn more…
For more information about group events, please contact one of our Guest Service Coordinators at 519-888-7727 or by email at info@thewatersspa.com.