May 11th, 2018
Sail away to warm, tropical islands with a Soak, Body Scrub and Cream Application in your favourite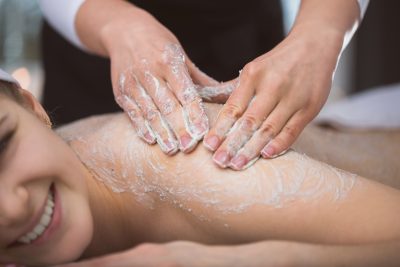 Ola Hawai'i scent! Aaah….
This quick, little scrub lasts 60 minutes and will get your skin fresh and supple for Spring. Choose between Coconut and Graprefruit-Mango all-natural scents for your treatment. Hawaiian Kukui Nut oils containing Vitamins A, C and E will absorb deeply into skin, leaving you soft, nourished and protected. And you will smell fantastic!
A similar treatment available only until the end of May is our Warm Tahiti Whites seasonal body treatment. If you like the fresh scent of gardenia and other white, tropical flowers, you'll love this body scrub and cream application. So soft, effective and relaxing!