May 11th, 2018
Radiance revealed. Uncover the secret with the Mangosteen Lactic Collection and our Lactic Acid Complex, designed to gently resurface skin and refine pores for a naturally luminous complexion.
Mangosteen is a super fruit that helps protect skin from drying environmental stressors while promoting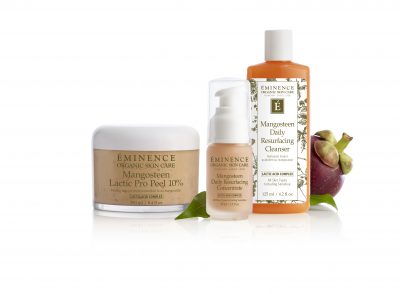 natural radiance. This line provides gentle, but effective skin enhancers with its Lactic Acid Complex (Lactic Acid, Ribose, Red Clover Flower Extract): A proprietary blend of actives that gently resurface skin and refine pores for a more luminous, even, and youthful looking complexion. Lactic Acid is a gentle alpha-hydroxy-acid (AHA) exfoliant that removes buildup and improves skin hydration for a brighter, smoother complexion. Ribose (from Corn Seeds) promotes the look of smoother, revitalized skin and Red Clover Flower Extract refines and improves skin tone to minimize pore size.
We've been noticing a difference in skin tone and texture after a single use!