October 2nd, 2017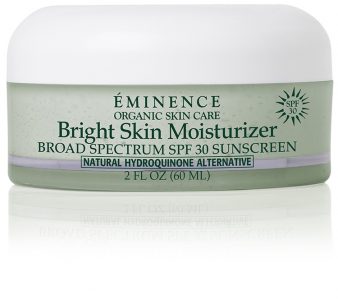 Since we are Going Green in October, we have chosen the (literally) green Bright Skin Moisturizer as our Product of the Month. This is an organic day cream and sun screen. Because it is from Eminence, when you purchase a Bright Skin Moisturizer, Eminence will plant a tree on your behalf. With these bright, fall days you still need to protect your face from those harmful UV rays. One of our best sellers, Bright Skin offers SPF 30 without clogging pores or causing break-outs. It has the added benefit of lightening the appearance of those pesky brown spots while it protects against future damage. Your skin will be left luminous and revitalized.
Retail price $59. Available during the month of October for our Social Media followers for 25% off!
We also have a Bright Skin Starter kit that will last over a month and is great for travel!  $59 includes cleanser, mask, brightening booster serum and moisturizer.