September 21st, 2018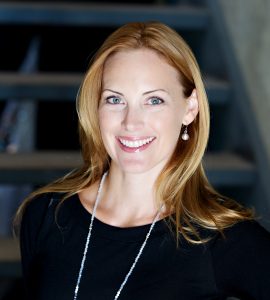 With the new school year beginning and the green leaves turning to orange and red, I find September is when I make my resolutions for personal change. This year, I have a personal growth list that includes not acting grumpy at home when I am tired, in addition to the usual – work out more regularly. I've got skin care mastered, but for many readers, this may be a great time to deal with some little (or more major) skin frustrations you are dealing with – like adult acne, for one. It's also a great time think about your teens and tweens – are they having skin troubles? Do you need some professional support?
This issue focuses on acne and suggested treatments. Acne in both young people and adults can lead to self-image issues and lack of confidence. So let's nip it in the pimple!
First, let's change our way of thinking. Acne is caused by bacteria on and under the skin, but it should NOT be treated with a harsh anti-bacterial approach. Yes, the harsh approaches can rid the skin of bacteria (at least temporarily) but will further damage the skin and may lead to acne scarring. From the beginning, acne should be treated like a wound to the skin and should be treated with a healing approach. When we get any other kind of wound, we heal the wound (think Vitamin E and Polysporin). We don't add chemical peels. The goal with acne treatment is to heal and purify the skin, not strip and attack it.
When skin is suffering from acne or increased bacteria, a thicker cellular wall develops in an attempt to protect the skin, but the kicker is… any bacteria that is already under the skin is trapped and multiplies faster due to the oxygen-poor environment. The result is inflammation and redness (in the form of pimples). Skin with small pores can also be prone to retaining bacteria and developing acne. Over-inflamed skin (due to acne left alone or the use of harsh chemicals) always leads to redness and often leads to permanent scarring.
Many people incorrectly believe that acneic skin is oily skin and they don't like to moisturize. This is a huge misconception.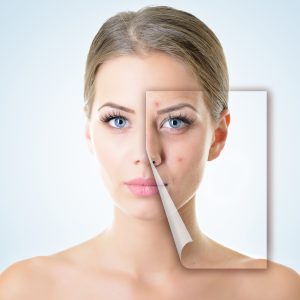 Skin that is overly dry can thicken, thereby reducing oxygen to the skin in addition to causing irritation – both of which can lead to more acne and a higher likelihood of scarring.
Furthermore, as many of us have experienced, hormonal changes (due to the monthly cycle, or pre/post/during pregnancy or menopause) can change the texture of skin. Suddenly, or even intermittently throughout the month, you may require some changes to a previously successful skin care routine that is no longer doing the trick.
So what is the solution?
The solution for anyone prone to or dealing with acne (at any age) is three-fold. I will go through more details of each further on.
Exfoliate daily (and weekly) to break through thicker skin or open smaller pores thus purging bacteria.
Moisturize with a daily moisturizer that is right for you (this requires a professional opinion from an Esthetician. Finding the perfect product combination for your skin may take some trial and error with product samples).
Mask weekly or twice weekly to soothe and soften skin.
1. Exfoliate Regularly
Acneic skin is a result of pores that need to be opened and purged of bacteria. Using a gentle daily exfoliant will soften skin and get the gunk out of your pores. Do not go for harsh exfoliants like some of the drug store brands that exfoliate with relatively large nut husks. For daily exfoliating, I recommend Monoi Age Corrective Exfoliating Cleanser ($45). This cleanser is gentle enough for all skin types, it is organic and it exfoliates with tiny olive seeds that get into those tiny pores and clears them out.
Another exfoliant that we LOVE is the Peeling Vegetal from Phytomer. This one can be used once a week to refine the skin's texture and remove dead skin cells, keeping your complexion clear and even. It is safe and gentle, yet effective for all skin types. The Peeling Veg (as we like to call it) is $53 and will last you a number of months.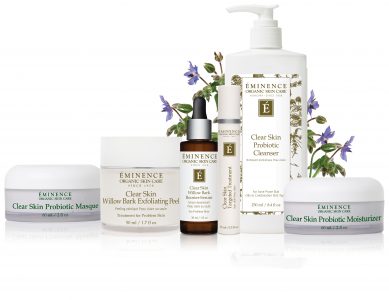 2. Moisturize Daily
I highly recommendation that you make an appointment for a facial at The Waters Spa so that a trained Esthetician can analyze your skin and make recommendations. Eminence Organics has a moisturizer that is specially formulated for problem skin. The Eminence Clear Skin Line. You can try our free samples or try all four of the products from the line for two to three weeks with the $59 Travel Pack. The Clear Skin Probiotic Moisturizer is moisturizing, but gentle and non-oily. It contains clarifying organic ingredients like Tea Tree Oil and Cucumber juice, as well as healing and protecting ingredients like Aloe and Coconut Water. Probiotic Moisturizer (full size) also $59
3. Mask Weekly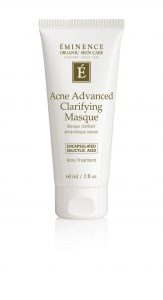 Whether you have acneic or regular skin, you should mask once a week. Make it a ritual that you do for yourself on a Monday evening or a Sunday morning. This season, we are introducing a new mask from Eminence called the Acne Advance Clarifying Masque. The best thing about this mask is that it can also be used as a spot treatment on pimples up to 3 times a day. Two solutions in one product – love that!
The Salicylic Acid in this mask penetrates pores to exfoliate and remove blockages, while three types of clays combine to absorb impurities, gently exfoliate and absorb excess oil. Basil Oil cleanses and reduces the appearance of redness. Mask retails for $71.
So don't live with acne or even the occasional cluster of pimples. Start your path to a beautiful, healthy and radiantly clear complexion …with a little help from The Waters Spa.