June 9th, 2018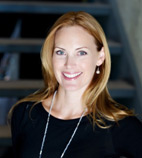 Summer has come early to Southern Ontario. With warmer weather and the end of the school year fast approaching, comes summer vacation and travel plans. Whether you are traveling to a beautiful Ontario campground or overseas, I suggest packing light. I used to be the person who brought a huge suitcase on any trip over 3 nights, but now, even for a 3-week journey, I take a carry-on. It is easier in so many ways. Even with limited luggage space, I will not forego my skin care regime, my make-up routine, my accessories or even adequate wardrobe changes! Read on for tips on how to pack light without going… well, without.
1. Travel Size Everything
Anyone who travels is familiar with the travel "minis" section at Shopper's. Start there for your toiletry basics, but don't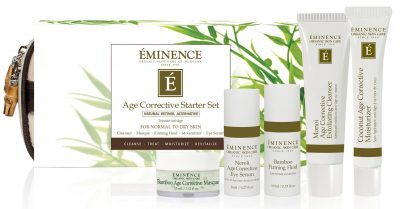 go for sub-par brands just because they are available in smaller sizes. Eminence Organics skin care has beautiful travel packs for all skin types. These are not testers, but small versions of each skin care product that will last you about a month. There are 6 different travel packs for 6 different skin types and needs. Each travel pack contains at least 4 items and most packs retail for $59. Find more detailed information about these skin care sets in our Spa Product Feature this month. Link here.
When it comes to make-up, palette it! You can find customizable make-up palettes that can include your bronzer, blush, and a number of eye shadow and brow colours all in one palette. Talk about saving space! Add a set of mini brushes, YoungBlood concealer and mascara and you're all set. Another great time and space saver is the Eminence tinted moisturizer with SPF 25. It's 4 products in one travel-ready 35 mL bottle – a moisturizer, subtle tint (or foundation replacement), sunscreen and replaces your powder because it has a mattifying effect.  (I like my face to feel more dewy, so when I am home with all of my skin care products, I mix it with my Tropical Vanilla SPF32 day cream to amp up the SPF as well as the hydration.)
In my opinion, every vacation pack must include 3 items: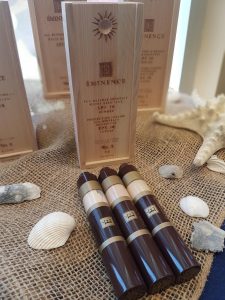 Eminence water-resistant Sun Defense Mineral Powder with SPF 30, which retails for $59. This multi-purpose product is a sunscreen that you can reapply over your make-up throughout the day, it decreases shine and it's fully organic. It doubles as your face powder or 'foundation replacement' while traveling.
Phytomer's Contour Radieux Eye Mask, for tired "travel eyes." This miracle eye mask reduces the look of puffiness and redness around the eyes that can be a common result of jet lag, lack of sleep, over indulging and allergies.
A travel-sized corkscrew – you don't want to be stuck without one (for obvious reasons)!
2. Keep it Simple
The trick to traveling light is to keep it simple – from wardrobe to accessories to your hair, the less you have to fuss on vacation, the better.
Travel with a minimal wardrobe by coordinating everything in your carry-on – this will turn a few articles of clothing into a slew of different outfits. Choose a signature colour for your trip, then make sure that everything complements so that you can make multiple outfits – casual and dressy. These days it's not important to match everything. That being said, I'm old fashioned when it comes to coordinating. My signature travel colour this summer is poppy red. I have a cross-body poppy red purse with matching comfortable, cork-heeled sandals and a pair of poppy red tassel earrings. (Side note: I am so in love with tassels that I need to be cautious to wear only one tasseled item per outfit. Is anyone with me?) So, now that I have my key accessories coordinated, I can wear just about anything for tops, pants, dresses and shorts. I am pairing my poppy red with various pieces in navy, white and a bit of olive green.
Of course, at The Waters Spa we have a Poppy polish by SpaRitual. Poppy toes to match a poppy purse. I know it's not en vogue, but man it makes me happy to be matchy-matchy!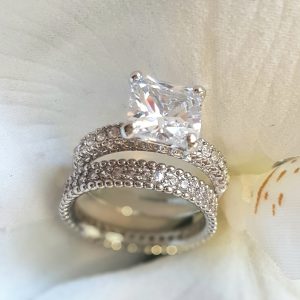 Anyone who knows me knows that I don't leave home without two things: under-eye concealer and jewelry. I love accessorizing! When traveling, I make space for plenty of costume jewelry. Two caveats though – I never bring anything valuable, and even my costume jewelry stays in my carry-on and with me at all times (or in a hotel safe). I no longer bring my wedding rings when I leave town. I once dropped my diamond ring at the beach and it was buried deep in the sand before I even knew I lost it. After a few hours spent tracking down a metal detector from complete strangers and then scanning the beach, I am relieved to say that I found my ring. A holiday miracle! It made for an exciting travel story, but not one I am willing to repeat. So I never bring my "good" jewelry. At The Waters, we have a beautiful array of 'diamond' rings for about $25 each – perfect for travel! (One if these fancy fakes is pictured here.)
When it comes to hair, we are lucky that the style these days is not to have every strand in place. This makes traveling easier. Wash-and-go 'summer hair' is what's in. Talk to your stylist about products that add wave and texture (like sea salt spray) without giving you that "crunchy" eighties look. Plus you will save space in your luggage by not hauling along a hair dryer or iron.
3. Plan for Laundry
The biggest trick to living out of a carry-on for multiple weeks is to plan to have laundry availability every 5 days or so. This is easy to come by these days with VRBO and AirBnB rentals (or if you have a hotel that offers laundry service). When traveling with kids, we like to stay in interesting places – I find that, even if you are simply going somewhere to sleep, if you're in the right place, your trip can be magical. And this doesn't have to cost a bundle – if you plan early. Staying in a rental apartment or home brings you into the neighbourhoods where people live and usually gives you a family-sized space at much more reasonable rates than hotels. From cool condos in big city high-rises, to Victorian homes in smaller towns, or log cabins in the woods, staying somewhere other than a hotel can be a nice cultural break in any trip.
So, guests of The Waters…go global! Send us your favourite travel pics and we'll post them on Instagram! Show or tell is how you packed light without going without! Send pics to info@thewatersspa.com