March 6th, 2018
It has always been a trend at more upscale spas to offer luxurious spa packages that typically include a bath soak, some sort of scrub and a massage or cream application. Some countries are steeped in their own bathing rituals and cultures and these rituals are reflected in the spa packages provided at high end spas in foreign lands. In Hawaii, for example, spa products are made from coconut, mango, plumeria and pikake flowers. These are the ingredients in our Ola Hawaii body care products at The Waters.
In Canada, since we are a relatively young and culturally diverse country, we have inherited a variety of rituals for bathing and caring for our skin. At The Waters, we have hand-selected our favourite spa rituals and natural skin care products – made in Canada and around the world. Read this month's "Aging Gracefully with Carly Kuntz" blog to learn more about the Worldwide Escapes body packages.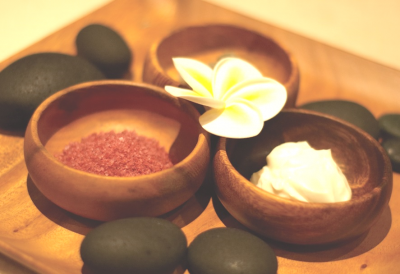 When it comes to the products we offer at The Waters, Eminence Organics skin care products are made in Canada but use organic plant and fruit ingredients grown at certified organic farms around the world. Phytomer skin care is largely comprised of natural marine plant ingredients from the Atlantic ocean Northwest of France. We also carry Dead Sea body care items from Israel and the previously mentioned all-natural Ola body products that are shipped to us straight from the Big Island of Hawaii.
Natural products from global sources are trending – come and try some today!