March 6th, 2018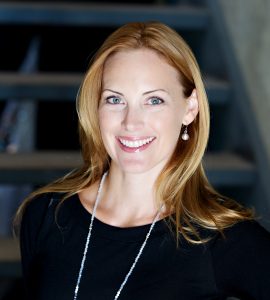 Checking off the boxes on your bucket list is a big trend these days. Especially as we age, many of us are focused on the things we want to accomplish in this beautiful life. My bucket list has always included copious travel. My Mom started me on this path when I was a toddler, backpacking Europe with her for six months. Since then, I have jumped at any opportunity to experience the world. My husband and I were fortunate to meet when we were young and he shares my passion. Together, with our kids, we continue to prioritize worldwide adventures.
Recently, I was fortunate to accompany my husband on a business trip to Kauai. While he golfed with the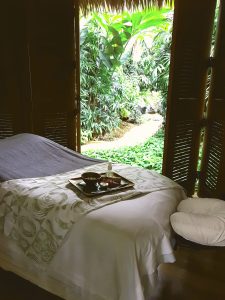 business crew, I did some R & D at the resort spa. When located in warmer climates, spas can really take advantage of the temperate weather and provide luxurious natural settings. I enjoyed a treatment equivalent to The Waters' Worldwide Escapes. The main difference was that my treatment was in a hale – an open outdoor room with closable shutters that were left open during the treatment for a gentle cross-breeze. And with the lush jungle surrounding, there was plenty of privacy. Rather than rinsing the scrub off in a tiled shower stall, I was led to an outdoor rain shower with lava rock walls and foliage for modesty. It was truly a heavenly experience.
On a previous trip to Hawaii, my outdoor massage room was on a private stretch of beach facing the open ocean. There was no spa music, just the rhythmic sound of gentle waves. How I wish we could provide outdoor showers and ocean views for our guests at The Waters!
Being an urban spa retreat, The Waters' treatments must stay within rooms and behind walls, but we do what we can to encourage the sense of escape with the aforementioned Worldwide Escapes. These spa packages are a lovely way to remember a previous trip or to fantasize about a travel experience you've always dreamed about.
My inspiration for the Worldwide Escape treatments came from world adventures with my husband. We've been working through our bucket list since we were in our early twenties. On many of our travels, I have taken time to visit the spa and experience what spa treatments were like in each region. I learned about what techniques were used, which ingredients made up the spa products, and why those ingredients were considered beneficial.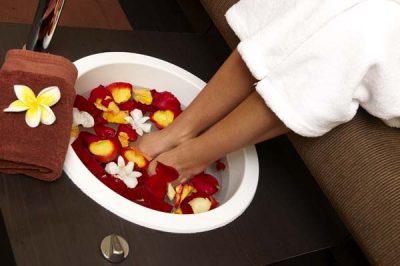 I learned about rituals like the footbath in Bali – a bowl with warm water, salts, essential oils and floating flowers – that has both purpose and symbolism. Practically, the footbath washes the feet to prepare them for treatment and gives the spa guest time to breathe and unwind, also in preparation to fully receive the spa treatment. The salts detoxify, soothe and soften and the scent of the oils is uplifting and relaxing. Floating rose petals signify love and nurturing. Symbolically, a floral footbath washes away the stress and worries of the day. At The Waters any facial, massage, body treatment or spa package begins with a ritual footbath…and it's complimentary!
In Hawaii, they use nourishing coconut and mango for scrubs and lotions that feel as great as they smell. At The Waters, we evoke the warmth and calm of the South Pacific with our Hawaiian Sunset Body Shine. The all-natural products used in this body treatment are flown to us straight from Hilo on the Big Island.
The Dead Sea Deep Cleanse is based on a trip to the Middle East. I had always dreamed of floating in the Dead Sea and feeling complete weightlessness. The experience did not disappoint. While bobbing on the surface, we reached down to the bottom to scoop up the mineral-rich mud and coat our bodies. Later, we enjoyed a Turkish Bath at a nearby bath house. After a steam on solid marble benches, a spindly, older man appeared wearing nothing but a white towel wrapped up about his man-parts like a big, saggy diaper. As I stood in front of him, arms and legs out like I was being arrested, he scrubbed me down with soap made from Dead Sea minerals. The soap was enclosed in some sort of mesh bag that transformed the soap into an intense exfoliator. Literally, rolls of dead skin fell off me like a shedding snake. It was both gross and amazing at the same time – amazing that I still had any skin left! I was initially happy to be wearing my bikini, but it didn't seem to matter much, as I was fully frisked. Those hands moved so fast and furiously to scrub every nook and cranny! He then washed away my shock and shame by tossing buckets-full of warm water at me. I was left to dry off and apply my own aloe lotion. We reminded ourselves that we were embracing a new cultural experience and we had a good laugh about it. Truly, I never felt so squeaky clean or so soft!
At The Waters, we emulate the Turkish Bath ritual with the Dead Sea Deep Cleanse, but we put it all together for you and protect your modesty in the process. After a float in a tub filled with Dead Sea Salts, your therapist scrubs you down with Dead Sea soap (minus the exfoliating mesh). Once you are thoroughly rinsed, you are coated in Dead Sea mud that has been shipped to The Waters from Israel. We finish the treatment with an aloe cream massage. While my authentic Turkish Bath lasted about 10 minutes, the treatment at The Waters takes a more relaxed pace – an hour and a half of pure luxury (and your therapist will not be wearing a diaper!) This treatment is great for detoxifying, deep cleansing, and moisturizing skin – also great for those with psoriasis or eczema.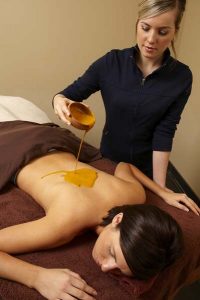 Our other Worldwide Escapes are similar in that we use authentic ingredients and interesting spa techniques to create the feeling of a cultural spa experience from the far reaches of the planet. The Land of the Rising Sun uses iconic Japanese ingredients such as green tea, cherry blossom, mikan (mandarin orange) and we use a bamboo baton for a deep muscle massage. The Traditions of Thailand begins with a soothing coconut milk and jasmine soak, followed by a traditional lulur cleanse that is largely made up of turmeric with its powerful medicinal properties. A herbal poultice massage and essential oil massage are also part of the process.
These are only a few of the Worldwide Escapes offered at The Waters.
If travel is on your bucket list but you just can't quite get to the exotic lands you've dreamed about, we can give you a taste of the more luxurious side of travel.
Fill your bucket, feed your soul and escape!