November 28th, 2017
Every holiday season I try to do better than the last. That doesn't mean that I try to do more, it means that I try to figure out how to manage the holiday season without ever feeling rushed, stressed or overwhelmed. Caveat: I have not yet reached perfection in this department, but every year gets a little better. This usually involves doing less and planning more. As December is upon us, make sure you coordinate yourself in such a way that you are able to enjoy all of the special moments of the season…and maybe even have a little bit of time for yourself.
More than once, I have been accused of being (maybe a little too) organized, so I will share some of my holiday secrets with you!
Holiday Goal #1: Space events apart
I have learned that I simply cannot host 4 events at my home within a 30-hour time period; a few years back I did just that. Was I crazy? It was nice to see our guests, but it is virtually impossible to enjoy the moments with that many To Dos in such a short period of time.
It starts with learning to say "no." It might not be possible to fit in every holiday dinner and every holiday party that you'd like to attend or host. Nowadays, I always plan at least a day in between each event that I host at my own house. No more "back-to-back" events. No matter how small the event, it takes time to make sure the house is tidy and food is prepped. I also never agree to attend more than one event per evening. If I go to an event, I want to be fully present.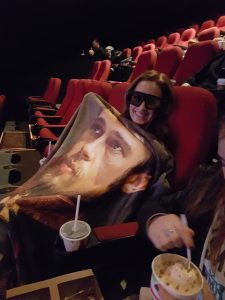 Holiday Goal #2: Do the things you love
You don't need to do anything over the holidays just because it's someone else's tradition (see Goal #5). We don't have a big family dinner. Our only turkey is at Thanksgiving. Instead on Christmas Day, after we've opened our presents and spent some time playing with them, we head to the movies. This is our third year going to see the latest Star Wars movie. (I hope they keep coming every year!) We were shocked at how packed the theatre was a couple of years ago, and many people wear their pajamas! Last year I brought a cozy blanket with me to the theatre – anything goes on Christmas Day! (Yeah, that's Brad Pitt and those are 3D glasses. Nothing but class!)
The message is…think about what would make you happy over the holidays, and try to turn that into a family tradition.
Holiday Goal #3: Plan ahead
There are two types of people: those who plan ahead and those who don't. I have been both types over the years. In December 2007, 4 months after The Waters opened, I was the second type – after selling gift cards at the spa until 4 PM on Christmas Eve, I found myself at Conestoga Mall running around like a lunatic doing all my shopping. It was insane! I was a sweaty, exhausted mess by the time we got to our German family Christmas Eve celebration. Then I had to stay up until the wee hours wrapping all my purchases. No fun! Since then, I set a goal every year – to have all my shopping AND wrapping done by December 15th. I have never met this goal, but every year, I get a little bit closer.
Planning ahead also goes for food prep, house cleaning, decorating and just about everything leading up to the big day.
Holiday Goal #4: Make decorating easy and stylish
I like to have the whole house decorated, but I don't love the act of doing the decorating and I especially dislike the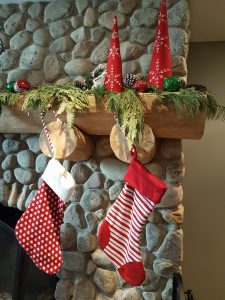 un-decorating. So I make it easy on myself. We put up one real tree and 3 fake trees. There is dedicated storage space in my house for decorations. The fake trees, with all their trimmings still attached, just get covered in a tree bag at the end of the season and dragged into storage. This way, we can have multiple trees and I only have to decorate (and un-decorate) one!
Tree bows make elegant and easy decorations all over the house. At the end of the season, they can just go out onto the fire pit! No need to wrap them and store them for a year. I plunk a few decorations among the bows and it looks beautiful, smells fresh and is super easy! I know I didn't invent this idea, but if you're not already doing it, you should!
Holiday Goal #5: Send out greetings
I feel the need to send out holiday cards. If this is not your thing, skip to Goal #6. I have a system so that it literally takes about 2 hours of my year. The trick is to order your cards early (see Goal #3). I know some extra-organized families who stage their Christmas photo in the summer. This is smart, but too much effort for me and I don't need a professional photo on my Christmas cards (although they do look gorgeous!) We use a family photo from a vacation or a family experience we all loved – just any photo from the past 12 months. There are so many web sites that provide holiday card templates. I use Tiny Prints, but you can even order through CostCo and Wal-Mart. Just drag and drop your photo, hit "buy" and voila!
I keep a word doc of address labels for all my greeting card contacts that I update every year as people move homes. With this on hand I can print out my labels and send those cards out in a flash. Following my two-step process, you can literally order and prepare your holiday cards in the summertime – from your cottage, your pool deck or the comfort of your lawn chair.
I recently read about a great use for holiday cards after the season. Snap a picture of each family photo and use them as your contact photos in your phone. So clever!
Holiday Goal #6: Take care of yourself
Possibly the most important thing you can do over the season is take care of yourself – your health, fitness and of course, your skin


(says the spa owner). I've said it before and I'll say it again: Phytomer's Contour Radieux Eye Mask is a necessity for party season. If over-imbibing or staying up too late results in next-morning eye puffiness, a quick application of this eye mask during your shower will erase all of your misdoings!
For about three years in a row, I was gifted with a Christmas sty. I attributed this to wearing much more make-up, more regularly than normal due to so many

parties and dinners throughout the season. Now I take extra precautions to remove all eye make-up thoroughly and cleanse every night before bed. My favourite products are Perfect Visage Gentle Cleansing Milk, Rosée Visage Toner (both by Phytomer) and Eminence Organic's 3-in-1 Rice Milk – a make-up remover, cleanser and toner in one for those late, late nights when you just can't be bothered.
I highly recommend carving out personal time to take care of your spirit too, as the busy-ness begins. I would suggest a massage, but Registered Massage Therapy appointments are not available until well into January; many of our spa guests are using their health benefits up before the new year. If it's destressing and decompressing you need though, a Relaxation Massage with an Esthetician will not disappoint. That, or a Facial, will give you a chance to unwind and head into the holidays … gracefully.