October 2nd, 2017
While all the leaves are changing colour, The Waters is going green! Eminence Organics has certified The Waters as a Green Spa
– actively supporting the green movement while inspiring others to do so. We're the only spa in Waterloo, Ontario to be Eminence Green Spa certified!
Here are just some of the ways we cut down a little to support the environment a lot.
For our beverage services, instead of paper and plastic cups, we use glasses, mugs and saucers.
We use halogen and LED lighting in most of our fixtures.
We recycle just about everything we can – all paper, plastics and so on. Don't worry, any personal info is shredded before it is recycled!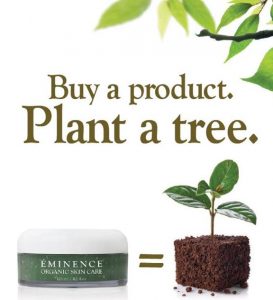 Agriculture, logging and urban sprawl are causing deforestation on a massive global scale. This results in loss of species and soil quality as well as climate change. Did you know that for every skin care product you buy, Eminence plants a tree? Together, guests of The Waters have planted 1641 trees! Not only are you taking care of your skin – organically – but you are helping to counteract deforestation. Thank you, Waterloo, for making a difference.
For more info about deforestation, show your kids this National Geographic video: https://www.youtube.com/watch?v=Ic-J6hcSKa8