September 3rd, 2017
There is no better way to celebrate a friendship or romance than with together time at the spa. Pair your visit to The Waters with lunch or dinner at one of the many unique eateries in Uptown Waterloo and you've taken your celebration to a whole new level! For romantic partners, join us to celebrate an upcoming wedding, an anniversary, a birthday, or a simple date night. Relaxing together and pampering yourselves is a great way to boost your romance.
Avid spa-goers know the beauty of unwinding along with a close friend. A visit to the spa on your own is called "maintenance" – taking care of your body and soul – giving yourself balance in a hectic life. A trip to the spa with a friend is even more rewarding. You might be encouraging someone to find a sense of relaxation that they haven't previously experienced. Inviting a friend to join you at the spa shows that you care about their well being and overall sense of calm.
One guest says, "Going to the spa with a friend is a bonding experience. I always find that the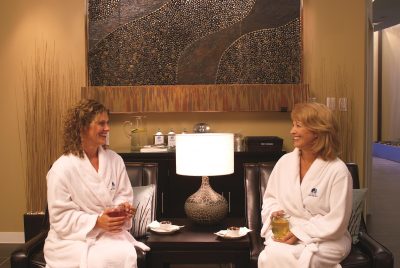 deepest conversations are had at the spa;  it seems to encourage 'therapy-like' discussion sessions together."
So whether you're looking to keep your romance alive, for shared relaxation, for deep conversation, or just for fun, together time at the spa is always a good idea!
Follow our social media feeds for some great "together-time" promotions this month at the Waters.
Facebook: @The-Waters-An-Urban-Spa-Retreat
Instagram: @TheWatersSpa
Twitter: @TheWatersSpa