July 14th, 2017
Are you wishing you were on holidays? Can't take much time off work this summer? Book yourself a mini vacation by coming to the spa to recharge your batteries. A great way to prove to yourself that you are taking care of yourself is to add on to the spa treatments you already enjoy for your regular maintenance. For example, adding paraffin wax to a regular manicure or pedicure will increase moisture in the skin and prolong softness. If you're a runner, maybe you'd appreciate an added leg and foot massage to go with a pedicure after a big run. Or add on the soothing and cooling leg mask to ease swelling and sore feet during hot summer months, and especially during pregnancy.
The point is, an inexpensive add-on can really boost the effectiveness of your spa treatment, and most add-ons are $15 or less.
If you're a seasonal facial type of girl (and good for you!) adding an extra 15-minute back or scalp massage can increase your relaxation ten-fold. Conversely, adding an Intense Youth Eye and Lip Treatment to any massage will give your face a little pick-me-up!
Combining treatments with add-ons, doesn't take up too much more of your valuable time (or money) and can really boost your results and relaxation.
Don't forget that at The Waters, we offer complimentary add-ons too! Every facial, massage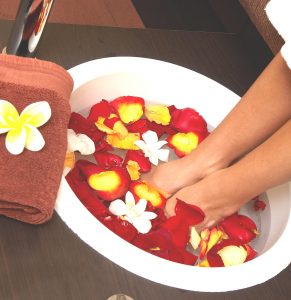 and body treatment guest receives a complimentary ritual footbath prior to treatment. Why do we offer this free service? We want guests to have a few minutes to relax even before their scheduled treatment. The purpose of the footbath is to symbolically wash away your worries, while your feet are cleansed and soothed with warm water, Epsom salts and essential oils. The floating rose petals are to let you know that you are special and you deserve nothing but the best.
Upon any spa visit, women can reserve our complimentary infrared sauna before or after your treatment. The infrared sauna offers five benefits: detoxification, pain relief, improved circulation, skin purification and, of course, relaxation.
Our massage guests enjoy simple perks such as cool cucumbers to soothe the eyes and a complimentary aromatherapy choice of our three signature essential oil blends: Relaxed, Balanced or Aware. Or choose our seasonal oil blend that we change with each new season. This summer, we love our new Fresh Peach Bellini!