May 31st, 2017
With Father's Day right around the corner, it's a good time to think about all the great ways Dad can relax and have fun. Some men love fishing. Of course, golfing is big. Going to the beach or just hanging out in the backyard is always fun for Dad. Surprisingly too, more and more men enjoy spending time at the spa to unwind and decompress. According to the International Spa Association, the portion of spa-goers who are male has shot up from 31 percent less than 10 years ago, to 47 percent today.
Spas like The Waters want men to feel comfortable when they visit, so the décor is neutral and chic, rather than overtly feminine. At The Waters, we provide a room with a television so men can enjoy manicures and pedicures while catching up on sports, news or entertainment if they are not in the mood to chat with their therapist.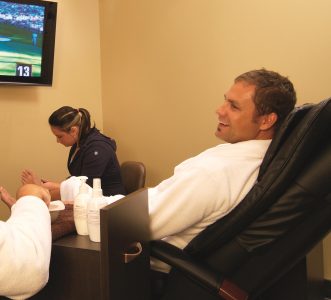 A man's first visit to the spa is often with a partner for a couples' treatment, such as side-by-side pedicures, facials or massages. Many men love foot massages, so pedicures are a special treat. Fewer men are trying facials, but those who do realize that they are just as soothing (if not more so) than a massage. And, of course, many men like to use their health insurance benefits to max out their allotment for registered massage therapy. Men are realizing that their hands and feet should look nice. They know that massage can help with any sports or job-related muscle aches. They even think about their skin nowadays and want to prolong a youthful appearance with proper skin care.
We've seen some neat spa trends of recent years. Daughters and Dads will come to the spa together for pedis. Dads and sons will visit for massages the day before a wedding or after a major sporting endeavour. The groom and his buddies will also book a spa day to get primped before the wedding. Mostly though, we see couples joining us for deep relaxation before a romantic date night.
Before they moved out of town, one of my favourite couples came to the spa about two Sundays per month for afternoon "spa dates." One week, they would have pedicures, facials the next time, and so on. This is a couple whom I foresee will be together forever.
So no matter how macho your man, there is a good chance he will enjoy the peace and relaxation of a visit to the spa. Treat him to something new…he'll thank you for it!