May 4th, 2017
Many of us had to become mothers ourselves to truly realize how much our own moms did for us. If you're among this group, you understand the heartache and joys of being a mother, the worries and fears about the health, safety and happiness of your children, and the pride you feel over the smallest thing your child does. As mothers, we work full-time (inside or out of the house), we help with homework, we drive our kids all over town, we keep a clean house, we are the managers of multiple schedules and meal plans and social engagements, and we still find the energy to make our children feel like they are the most important people in the world to us. We are a really amazing group of people, if I do say so myself. I am constantly in awe of other mothers –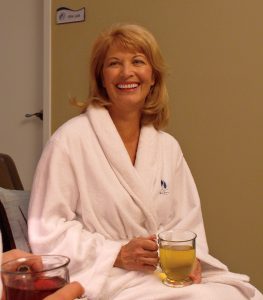 their creativity, their strength and their love. And I am in awe of my own mother – the struggles she survived, the family bonding memories she created, the unconditional love she bestowed. I feel like I can never repay her for the years of nurturing and support.
And how many of us feel like we are encumbered by too much "stuff"? Aren't we continually cleaning stuff up and getting rid of stuff? By the time we reach 40, we really don't need any more "stuff" (except new, trendy shoes!)
These days, my gifts to others are almost exclusively gifts of experience. Ranging in price, there are so many amazing experiences that can be shared with loved ones of any age. Surprise week-ends away, family Escape Rooms, concerts, musicals, even inexpensive picnics provide a memorable afternoon. These experiential gifts leave no trace behind except for good memories and maybe a few pics!
We, at The Waters, want you to become a "No-More-Stuff Ambassador" and treat your mother to some dedicated "me" time at the spa. Let her be nurtured for a change. A facial, relaxation massage, or Worldwide Escape Body Treatment will leave her feeling like a new woman! Or book your spa time together – bonding over relaxation is always a good thing!