February 15th, 2017
Life is busy! When parents are working, driving kids around, helping with homework, doing housework, socializing with friends whenever possible and trying to workout often, "together time" with your partner can sometimes fall to the bottom of the priority list. Do you ever feel like you and your partner are two ships passing in the night? Bumping into each other in the kitchen before the day begins or discussing who's driving whom and to what is not considered "together time." Going out with your kids is not a "date night." Couples need to keep the spark alive by spending quality time together with no interference from others. Women's Health Magazine indicates that over 60% of couples go on a date at least once a month. If you're not part of this group, what are you waiting for?
Why is date night so important? The Huffington Post suggests that not only can a date can keep the romance alive because it takes a little trip back to courtship. It's about connecting with each other, not about getting things done. You are showing commitment by making your partner a priority in your busy schedule.
Speaking of busy schedules, my husband requires that I send him calendar requests for anything and everything that happens in our lives. If it's not in his calendar, it simply doesn't exist!
So try this…plan a SPA DATE and put it in his/her calendar!
Book your side-by-side spa treatments for late afternoon, then go out for dinner afterward. You can enjoy delicious, fresh food at a number of Uptown Waterloo restaurants. Or book a Spa Date mid-morning then wander around Uptown for a couple of hours enjoying the shops and scenery. There are regularly scheduled mini festivals in the square just around the corner from the spa.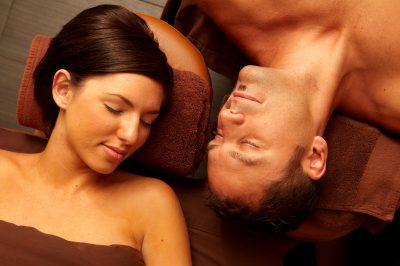 At The Waters, we have a bunch of different options for services you can enjoy together. Popular couples treatments include: relaxation massages, body treatments, facials and even pedicures. For an extra special treat, book the Romantic Escape package with your treatment – a romantic soak in our double-sized fireplace tub laden with rose petals, surrounded by candles, and with chocolates and strawberries for you to enjoy. This package is decadent when booked with a body treatment, such as the Hot Cocoa Mocha Scrub and Mini Massage or the Land of the Rising Sun escape to Japan.
We caution you though, trying to book couples massage with Registered Massage Therapists takes some planning ahead – especially if your date is going to be on an evening or weekend. Our 5 massage therapists are in great demand due to their amazing therapeutic skill so please plan VERY early for a special occasion!
If you're wondering how you are going to drag your man into The Waters for a spa date, don't be concerned. Today's man isn't above being pampered! We have a dedicated men's change room with shower facilities. Our décor is gender neutral. Our team of professional therapists work with men regularly so he can be assured that the experience will not be awkward. Years ago, very few men went to the spa, but nowadays, it is quite commonplace.  At The Waters, we have over 1,600 male clients – most of whom join their wives or girlfriends on spa dates – just like the one you're planning!
So go our web site and plan your romantic date at www.TheWatersSpa.com
We look forward to caring for you and your loved one soon!